Disposing of pianos professionally
We are dedicated piano removal specialists and offer a full piano disposal service. Your piano will still requires careful handling to ensure there is no accidental damage to your property, flooring and furniture. Kent Piano has full Insurance that will cover all aspects of your collection.
We always attempt to find new home for any working pianos picked up for disposal. All disposals will be put through rigorous tests in our workshop to see if the piano can be given a new lease of life, we check to see if the piano can be made playable and will maintain its tuning. For pianos that don't make the grade, these will be recycled or even made into art such as bookcases, writing desks and wine cabinets.
Kent Piano Movers do not dispose of pianos to landfill. We are one of the only companies that recycle the wood brass and separate the materials for correct green disposal. This is often uneconomical but we take pride in minimising our carbon footprint and believe the planet should be looked after.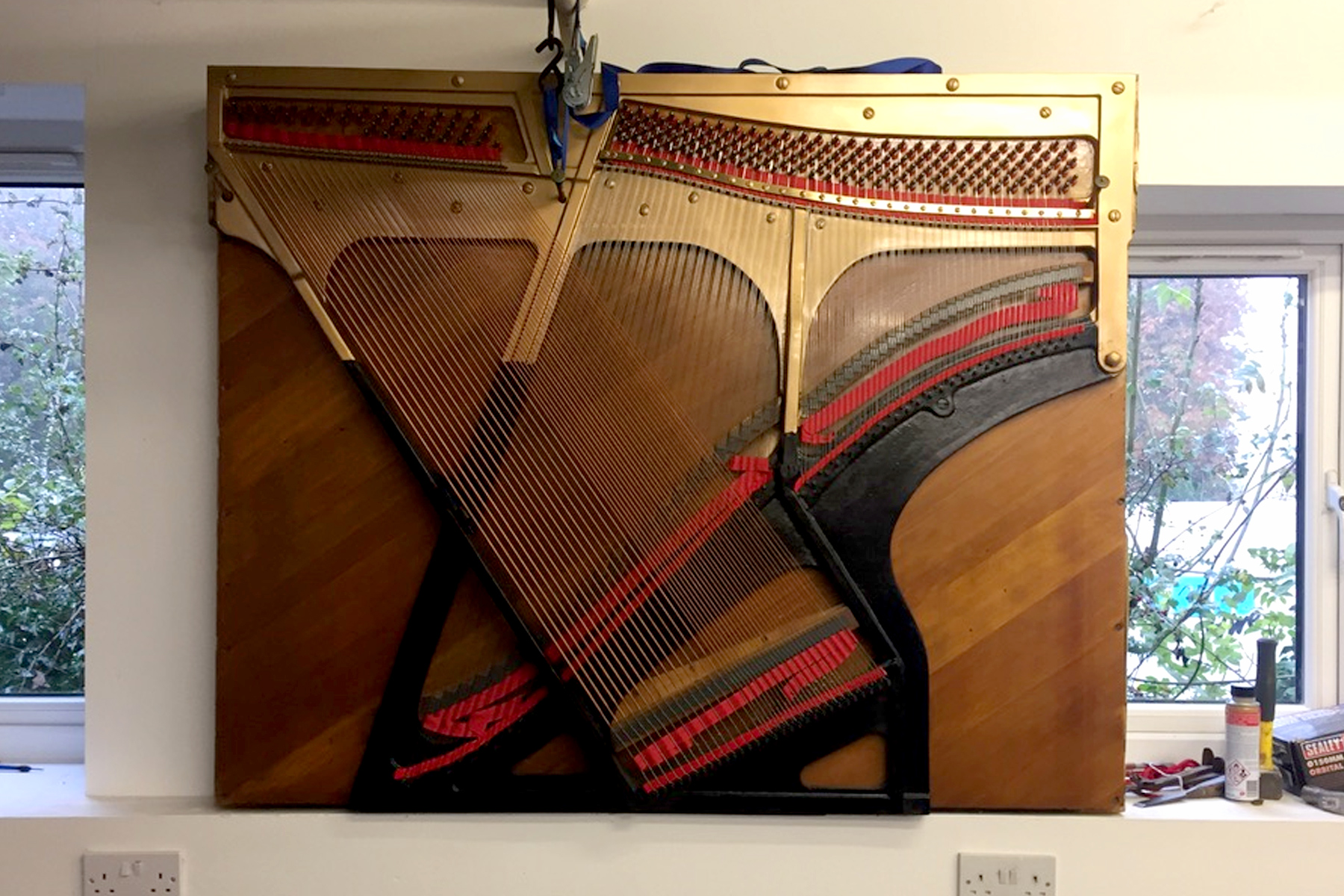 A home for unwanted pianos?
You might think that there would be a lot of people out there who would want any piano but it's rarely that simple. Getting rid of a piano you don't want can actually be a real challenge. If you have an older upright piano that is in pretty bad condition you might think that somebody out there might want it to fix up and you can avoid disposal.
Unfortunately, many pianos are disposed of every year in the UK. Sadly, in some cases this is the only thing you can do as finding a home for a sub-standard piano is going to be a very time-consuming task. Rebuilding a piano costs thousands of pounds and if you have a piano that has the potential to be worth only a small amount, it's going to be very hard to find a home for it.
We will always consider restoration
At Kent Piano Movers we have a passion for pianos and will always look to see if your piano can be restored for a new lease of life. However, sometimes this is not possible and we will recycle your piano in the correct and responsible manner.
Common questions
We have answers to your most commonly asked questions.
If the piano has no value, why does it matter to move it carefully from my house?
Do you want to risk damage to your furniture, artworks, floors or stair rails? Probably not.
We have the right equipment to move your unwanted piano carefully and safely from your home.
I think my piano has some value. Do you buy pianos?
Yes, we do! If you have a piano with value that you no longer want, please request a quote with details of the piano's value. If we agree with your assertion, then we may be able to offer you money to take your piano away.
How much will it cost to dispose of my piano?
Prices will start from £120.00 for local piano disposal and the price will vary depending on the distance. You can receive your no-obligation quote through our quotation form to help you make a decision.
Do you offer a same-day service?
Yes, in some instances we can offer a same-day service. Please get in touch with us if you have an urgent disposal requirement. For next-day and beyond, we recommend that you request a quotation.